4IPNET HSG260 (Wireless Hotspot Gateway)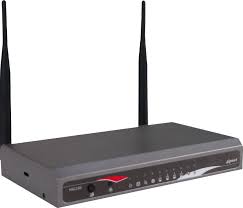 4IPNET HSG260 (Wireless Hotspot Gateway)
        The 4ipnet HSG260 is the most economical and feature-rich Wireless Hotspot Gateway. An access point with built-in controller functionality, the HSG260 is ideal for small-sized organizations and establishments that wish to have an enterprise-grade WLAN without the associated costs and complexity. The HSG260 features 2x2 MIMO radio that can support up to 300 Mbps data rate in the 2.4 GHz band, providing high performance. Along with integrated user authentication, role-based policy assignment, and real-time user monitoring, businesses of all scales can now own a manageable and secure wireless network.
HSG260
· Feature-rich Wireless Hotspot Gateway
· For small professional offices, small shops, public services area.
· Customized Captive Portal with Social Media login and On-Demand Account.
· HSG260 integrates with the Wireless Easy Setup
· Wall-mountable, dust-proof (IP50) metal housing
· Multiple Billing Plans and SMS Payment Gateway Interfaces 
· Billing Quota by Volume Traffic, Time, and Duration.
· Real-time email notification and browser-based Authentication
· Flexible Role-based User Policies
· User Bandwidth Control, Firewall, and Routing
· MAC/IP Privilege Lists and Blacklists
· User Session Control, Limits and Traffic Statistics.
· Detailed logging and reporting Logs
· Single Management UI for Wi-Fi Parameters & User Access Control
· Fixed Local Accounts for Staff and Employees
· Simple Integration to Keypad-based Ticket Printer
· Alternative Smartphone/Tablet Account Creation
· Built-in Network Troubleshooting Utilities
SPECIFICATION
PHYSICAL
Power

DC Input: 5V / 2A (Power adapter included)

Dimensions

22.0 cm (L) x 12.7 cm (W) x 4.5 cm (H)

Weight

0.82 kg (1.8 lbs)




Interfaces

Uplink: 1 x 10/100/1000Base-T Ethernet, Auto MDIX, RJ-45

LAN: 4 x 10/100/1000Base-T Ethernet, Auto MDIX, RJ-45

Console: 1 x DB9M




Antenna

Type: 2 x External single-band 2.4 GHz omnidirectional (included)

Gain: 5 dBi (2.4 GHz) 
 WI-FI


Standards

802.11 b/g/n

Single-band 2.4 GHz

Supported Data Rates

802.11b: 1, 2, 5.5, 11 Mbps

802.11g: 6, 9, 12, 18, 24, 36, 48, 54 Mbps

802.11n: 6.5 – 144.4 Mbps (20 MHz), 13.5 – 300 Mbps (40 MHz)

Radio Chains

2 x 2

Spatial Streams

 2

Output Power

 2.4 GHz: Up to 17 dBm

Channelization

 20 MHz

 40 MHz

Frequency Band

2.412 – 2.472 GHz

Operating Channels

2.4 GHz: 1 – 11 (US), 1 – 13 (Europe), 1 – 13 (Japan)

ESSIDs

Up to 4

Certifications

FCC (United States), CE (Europe)

RoHS compliant

WIRELESS PERFORMANCE
| | |
| --- | --- |
| Physical Data Rate | Up to 300 Mbps |
| Local Accounts |  Up to 500 |
| On-Demand Accounts | Up to 2,000 |
 SYSTEM MANAGEMENT 


Browser-Based Configuration 

Administer the system from any standard web browser 

Administrator Accounts 

Multiple tiered access privileges

Monitor each admin's current accessed page  

System Time 

Automatic synchronization (NTP) , Manually configured 

System Backup & Restore 

Yes 

SNMP 

Yes; v1/v2c 

Network Utilities 

Yes; built-in packet capture